Avon attorney releases second book on Lakewood woman, limits of judicial system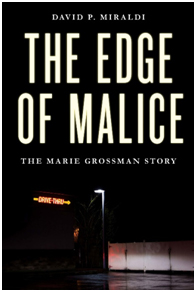 It was a dark and cold night in December of 1987 when Marie Grossman decided to grab a bite to eat at a Cleveland Burger King.
Rushing to her son's high school wrestling match after a long day of meetings, Grossman pulled up into the driveway at the corner of E. 85th Street and Euclid Avenue.
After lowering of her car window, Grossman had a gun pointed to her head.
In Avon attorney David Miralidi's newest book "The Edge of Malice," the true story of Grossman's encounter with two strange men suddenly appearing at the fast food restaurant and her battle with the judicial system is recounted.
"This book is much more than just an account of a crime and the legal battles that it spawned," Miraldi said in a news release. "It is about a woman's struggle to seek justice and to heal from the trauma of a life-changing event; not just the physical injuries, but the overriding emotional damage that continued to stalk her.
The book, released on April 14 by Prometheus Books, is Miraldi's second book. "These are the types of stories we need to hear," he said.
Grossman's beginnings
Miraldi said he has personally known Grossman for decades, having met her in 1978.  An attorney by trade, Miraldi said she worked with his wife Leslee in the law department for the previously AmeriTrust Group, Inc. in Cleveland. Grossman was Leslee Miraldi's mentor at the time, according to David Miraldi.
Previously, when Grossman lived in Boston, Ma. as a school teacher, she marched with Martin Luther King Jr. to protest the segregated school system. Miraldi said Grossman decided to go to law school after experiencing further frustrations with the school system in an attempt to find a way to fix it. She attended and graduated from Case Western Reserve University "during a time when women were not welcome," Miraldi said.
As an attorney with Jones Day in Cleveland, he said she was part of big projects, such as saving Playhouse Square.
"Her life then changed," Miraldi said, speaking on the night of the incident.
This is a story about confronting one's fears, acting resolutely and becoming an instrument for change," he said in the release. "For me, Marie's life is inspirational.
Researching and writing
Miraldi had initially put the book on Grossman on the back burner after reaching out and not hearing back from her and was well into working on a different topic for his second book. Months later, Grossman reached out. "I dropped the third book and went directly to hers," Miraldi said.
He said he interviewed Grossman three or four times and also spoke to other people involved in the incident. Miraldi estimates he completed hundreds of hours rifling through court documents, transcripts and newspaper articles for his book on top of conducting interviews.
"It's one of those things, for either book, when I look at the massive papers and documents, they fill a whole drawer of a file cabinet," he said. "Because you enjoy doing it so much, you don't keep track of the time."
After five or six months of researching and writing, Miraldi had his first draft, with almost another year and a half spent on nailing down an agent and publishing company. "The only way to get into the doors to a publishing house is through an agent," he said. "There's no other way. Your agent is your way to opening that door."
From one book to another
Miraldi's first book, "The Edge of Innocence: The Trial of Casper Bennett," was one that reached international acclaim, winning the 2018 Book of the Year by the International Rubery Book Awards. He said his debut was mainly based on research and paper documents, as it was based in the 1964 murder trial of a Lorain tavern owner accused of drowning his wife in a bathtub.
Since both his books are written as narrative nonfiction, Miraldi said his style mainly remained the same for his second go-around and is written with dialogue and the thoughts of the characters. "The difference in the first book is that everyone that was instrumental in that case had died," he said. "In the second book, I had the opportunity to talk to people. I had many more interviews."
Ultimately, Miraldi said he hopes readers find Grossman's story inspiring. "She certainly had a willingness to reexamine what had happened to her and to change," he said.
Read Full article on The Morning Journal here:  https://www.morningjournal.com/news/cuyahoga-county/avon-attorney-releases-second-book-on-lakewood-woman-limits-of-judicial-system/article_26e6996e-7f48-11ea-bdbf-631919def494.html